2" & 3" Sputtering Sources for Research,
Development & Prototype Production
Industrial Performance in a Small Size

Sales Brochure MC 600 02/08


Product Specification 451002 02/08


Product Specification Supplement for Target Mounting 451003, Rev. B 06/10
Features
Only Source With Integral Gas Injection - Additional Feedthroughs & Manifolds Unnecessary
Stable Operation at Very Low Powers & Rates
Power Levels 2x Compared to Competing Designs.
Modular Design
Tilt Mechanism, Variable Positioning, Shutters & Feedthrough Adaptors Among Standard Options.
Customized Designs Available
"Unbalanced" Magnet Arrays & magnet Modules for Magnetic Materials Are Available
Bonded, Clamped & Directly Cooled Targets
Suitable for DC, Pulsed DC, RF & AC Power Modes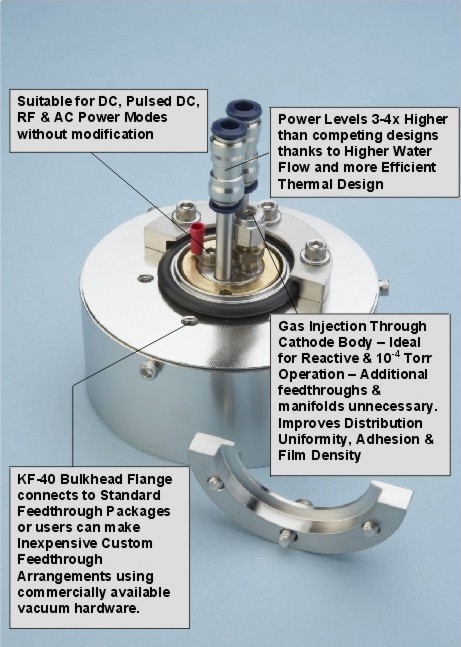 What Makes Polaris™ Sources Different?
Polaris™ sources provide industrial robustness and performance in a small package. They can operate stably at low 10-4 Torr background pressures at very low power levels. Conversely, because cooling water flow rates through the sources are nearly 2.5x that of competing sources, extremely high power levels can be achieved using directly water cooled targets during long process runs and pre-commercial development efforts.
Good Vacuum Practice
It's unlikely that you will consider fastener sizes when selecting a small sputtering source. We do. Small diameter fasteners gall more easily in vacuum and seize. We use larger, course thread screws. Threaded connections in vacuum - especially those exposed to heat and redeposited material, whether on target clamps or "adjustable" ground/anode sheilds are a bad idea. Not being able to exchange a target or having to use a hammer to service the source when conducting a critical experiment suddenly becomes a big issue not previously contemplated.
Simple, Compact & Reliable
Most sources are installed in relatively small chambers, so compactness is important. Adding gas manifolds, "chimneys" and other optional features increases size, expense and complexity. O-ring sealed, push-to-connect water fittings eliminate water leakage, especially when the cooling lines have a tight radius. The stainless steel water line tubes are easily replaced if damaged. Ultem insulators ensure that all types of power supplies can be used, and that the insulators won't crack, arc or cold flow. Stainless steel anode/ground shields and KF-40 bulkhead clamps eliminate arcing caused by native oxide growth, especially in the presence of other plasma and ion sources that aren't sufficiently neutralized. All parts exposed to vacuum are UHV precision cleaned or electropolished.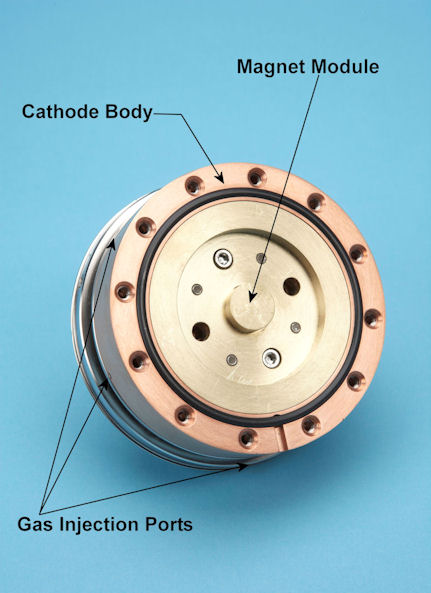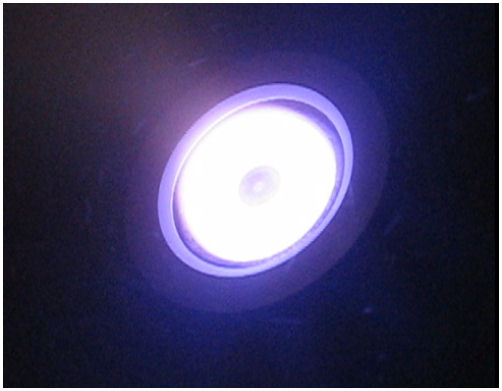 Better Process Control
Because gas is injected through Polaris™ cathode bodies, process benefits are obtained (stable, low pressure operation, reduced insulating film growth and backscattered material on the target surface. - reduced arcing, denser films, better control of stoichiometry, etc.) and the source stays small. Process geometry variability becomes limited the bigger the source in small chambers. Target material is deposited on manifolds, chimneys, sheilds and flakes off - causing arcing, shorting and other bad stuff. The less surface area the better. When gas distributors/manifolds sold by our competitorsare connected through the chamber wall at ground potential, the probability that the plasma will be disturbed increases (non-uniform films), rates drop and base pressures increase (lower ionization efficiency because electrons will more likely follow the ground path instead of remaining present in the plasma discharge.
Reactive Aluminum Oxide Process
A Lasting Investment
Polaris™ sources emphasize a robust design, reliability, ease of maintenance and a low cost of ownership. We think you don't get good value for money if the purchase price is low, but the cost of maintenance is high and reliability low. The use of welded and brazed assemblies lowers the manufacturing cost, but doesn't consider how difficult it makes the source to clean and service. Aluminum erodes easily when vapor honed, grit blasted or, in most cases, chemically cleaned. A brazed insulator assembly or a feedthrough with a bellows welded to it experiencing a vacuum leak is an expensive repair. Every component in Polaris™ sources subjected to normal operation can be serviced or replaced by the user on site using, in most cases, commercially available parts and hardware.
Target Mounting
2 Inch Clamped Target Arrangement 2 Inch Bonded Target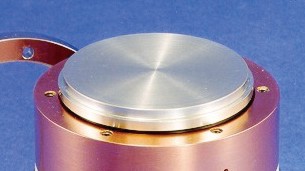 Targets may be bonded, clamped or directly water-cooled, depending upon the target material, user preference and power level. Brittle, soft and low thermal conductivity materials should be bonded to the backing plate. This minimizes hot spots, insulating film growth and permits much higher power levels and rates of deposition compared to clamped targets. Targets can be clamped to a semi-permanent backing plate that remains attached to the cathode body. This method is appropriate only when low power levels are used for short duration. Directly water-cooled targets are recommended for high power/high rate sputtering of mechanically strong materials like refractory materials.
2 Inch Directly Water-Cooled Target
Clamp and Backing Plate for 3 Inch Clamped Target

3 Inch Target Clamp and Backing Plate 3 Inch Source with "Semi-Permanent: Target Backing
Assembled on Cathode Body Plate Arrangement with Target Clamp Removed
All cathode bodies and target backing plates now feature a 12 hole pattern. This has several benefits. It allows the backing plate to be "semi-permanently" attached to the cathode body so that it does not have to be removed when exchanging clamped targets. It also allows brittle targets to be gently clamped without breaking them because the backing plate o-ring seal is loaded by the first set of screws holding the backing plate to the cathode body.
Copper backing plates generally deflect too much on 3 inch sources when under vacuum and cooling water is flowing, causing bonded targets to separate from the backing plate and clamped targets to fracture and crack, although it can be used for structurally strong targets. 304 CRES (stainless steel) is supplied as standard and should be used. 2" sources are supplied with copper backing plates as standard.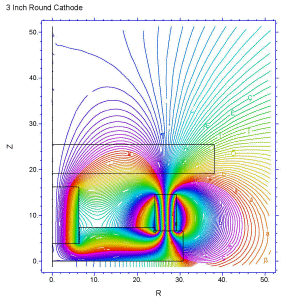 Magnetics
The magnet module resides in the cooling water cavity, ensuring maximum protection from overheating. The discrete magnets within the module are completely encapsulated and are protected from exposure to water. Polaris™ sources are supplied with a balanced magnet array as standard. Custom arrays for "unbalanced" magnetron sputtering and for sputtering magnetic materials can also be supplied. These arrays require a discussion with the customer about materials, process and expectations.
Modular Design Allows a Very Wide Range of Installation Possibilities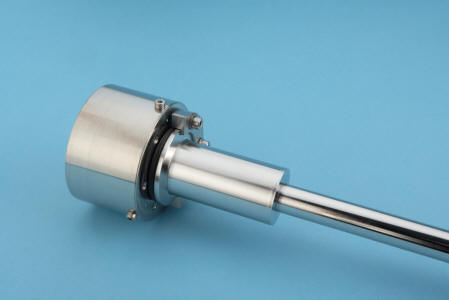 The basic sputtering source has a KF-40 bulkhead flange. Power, water and gas connections are made at atmosphere within it. A variety of standard feedthrough and installation kits mating with this flange are offered. To obtain the Installation Control Drawing for the specfic configuration that meets your needs, CLICK HERE.
Please contact the factory if you don't find what you need on this web site.
Installation Examples

Basic Polaris Sputtering Module

2" & 3" Adjustable Position Polaris Sources

2" & 3" Adjustable Position Polaris Sources

2" Adjustable Position Polaris Source

3" Adjustable Position Polaris Source

1" Baseplate Feedthrough Adjustable Polaris Source

1" Baseplate Feedthrough Adjustable Polaris Source

Typical Utility Connections

Modular Design Allows Use of Industry Standard Components

2" & 3" Adjustable Position with Tilt & Shutter

Flange Mounted Assembly

Polaris on 1 Inch RF/DC Baseplate Feedthrough with Shutter
Application Examples
Adjustable Position 3" Polaris™ in UHV Sputtering System for X-Ray Optics

The NSLS-II Multilayer Laue Lens Deposition System

"Pushing the Envelope in Optics" - The Bulletin 11/20/09 issued by Brookhaven National Laboratory
Link to CVD Equipment Corporation NSLS-II Multilayer Laue Lens Deposition System web page
Complete Sputtering Packages
1500 Watt DC Package 300 Watt RF Package
Low cost sputtering packages are also available for those on tight budgets.