The Highest Performance Sputtering Sources Just Got Better!
The unique Kamlok™ Fast Target Exchange System (US Patent Pending) completely eliminates the use of target clamp fasteners. Re-deposited target material doesn't have to be chipped away from the target clamp to gain access to fasteners for removal. Seized fasteners are a thing of the past. No more drilling and re-tapping of damaged threaded holes caused by fastener galling. Sealing the target against the cathode body is now accomplished through the use of a cam action mechanism.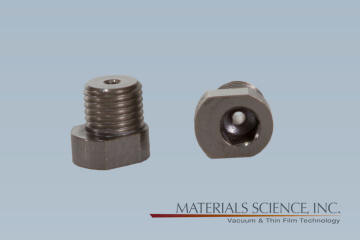 Unique, Advanced, Proprietary Solid Film Lubricant Eliminates Fretting Wear
The cam screws are coated with a recently developed smart, nanocomposite lubricant that adapts to being in vacuum or exposed to atmosphere. It has a friction coefficient of < 0.01. It does not absorb water vapor and many thousands of pumpdown and vent cycles will not generate particulates caused by water vapor absorption in high humidity conditions (a common problem with molydisulfide and other vacuum compatible lubricants). High temperatures (exceeding those encountered in any sputter deposition system) will not degrade it's performance. The coating binds at a molecular level to the cam screws and exhibits excellent adhesion. It will not ever wear off during use. It does not chip, peel or crack. It is virtually chemically inert, has a very low vapor pressure and is UHV compatible. In short, it completely eliminates all the use and maintenance problems and expenses associated with the use of threaded fasteners in vacuum and operates reliably under all conditions the sputtering source will ever be exposed to. Over many years of service, we have never experienced a single failure.
Visual marks indicating open-closed condition of the Kamlok™ mechanism and a positive stop in both positions assure ease of target exchange.
Target clamps are sized to the overall target thickness and target mounting method. It may be necessary to have several sets of target clamps if several significant variations of target thickness and/or target mounting methods are required.
The mechanism components are all completely vacuum relieved. There are no trapped volumes to create virtual leaks, contaminate films and create arcing.